This is a sign of things to come... chances are Ill create loads of crafts at the one time as opposed to one a week :-p
First off I made a peg bag. Ive been meaning to make this for ages and ages, since we moved in here 6 months ago in fact. This wasnt very thought out and I just kind of improvised. Had to sew with tissue on each side when I was doing the opening as the vinyl was sticking to the presser foot. I got really annoyed with the vinyl and have to say that I probably wouldnt use it again. I just didnt have fun with it. Regardless, here it is...
2nd crafty project was a bag for a workmate using specific fabric that she wanted. We work in a place called Dunelm Mill which has loads of things for the home and has a huge habedashery/fabric department. She specified Diamante Black fabric for the outside and pink on the inside and this is what I made her...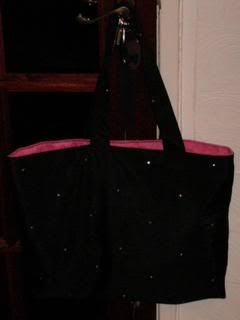 Its just a simple shoulder bag. Both fabrics I used are VERY thin so although I like the slouchy look I used sew in interfacing in this. I really like this. The Diamante fabric gives a really nice exterior. My only problem with it is that I didnt centre the handles enough so its slightly one sided. But I will definately be making more bags with this fabric.