So I took part in my first EVER swap (other than secret santas but they officially dont count :p). Kinda fitting that the first swap I take part in is run by my very, very good friend Vonnie (
Adventures of a Lady in Training
). True to her nature (since the only time I ever actually drink the stuff is in her house!) she ran a Time for Tea themed swap.
For this swap, we had to make a Time for Tea crafted item to a retail value of £10 and also include a crafty item for your partner to use and some tea, of course.
I was matched with the very beautiful and extremely talented VintageViolet (
Maximum RABBIT designs
). I was actually very pleased to receive Megan as my partner as I know her work is gorgeous and Ive bought things from her before so I knew this would turn out well. I have to say though, I was slightly intimidated with her as my partner as I thought I couldnt make anything as good as what she would send me.
Unfortunately, I was a bit silly and forgot to take pictures of the things I made to send to her but she has blogged about them here:
Time for Tea Swap
I made her an apron from some gorgeous fabric Ive had my eye on in Dunelm Mill from when I worked there (9 months ago!). At the Craft Show at the SECC I picked up a fat quarter of fabric with cups on it to make the little tea wallet and I included some felt as Megan likes to make felt brooches. I had to stop myself at one point as I had picked out a baby pink, a fuschia pink and another pink as she said she doesnt like too much pink so limited myself to the fuschia pink (turns out she loved it so I could have got away from forcing more pink on her :-p).
Now onto the gifts I received. I was actually taken aback at how gorgeous the items were.
First thing I opened was this Alice in Wonderland, Mad hatters brooch. As a kid I was given a copy of Alice in Wonderland as a gift and I held that copy dear to my heart.
Next I read the card she included, she always gets really nice colours.
Finally I opened my last little package. Boy have I glad I left it to last. When I opeend this I exclaimed to my parents "MUUUUNNNKKKKEEEYYYY" but they were blissfully unaware as to what I was going on about. But the detail in this is absolutely lovely, I particulary like her tiara and her little pincushion teacup.
Everyone I would like you to meet Princess Tea-ara: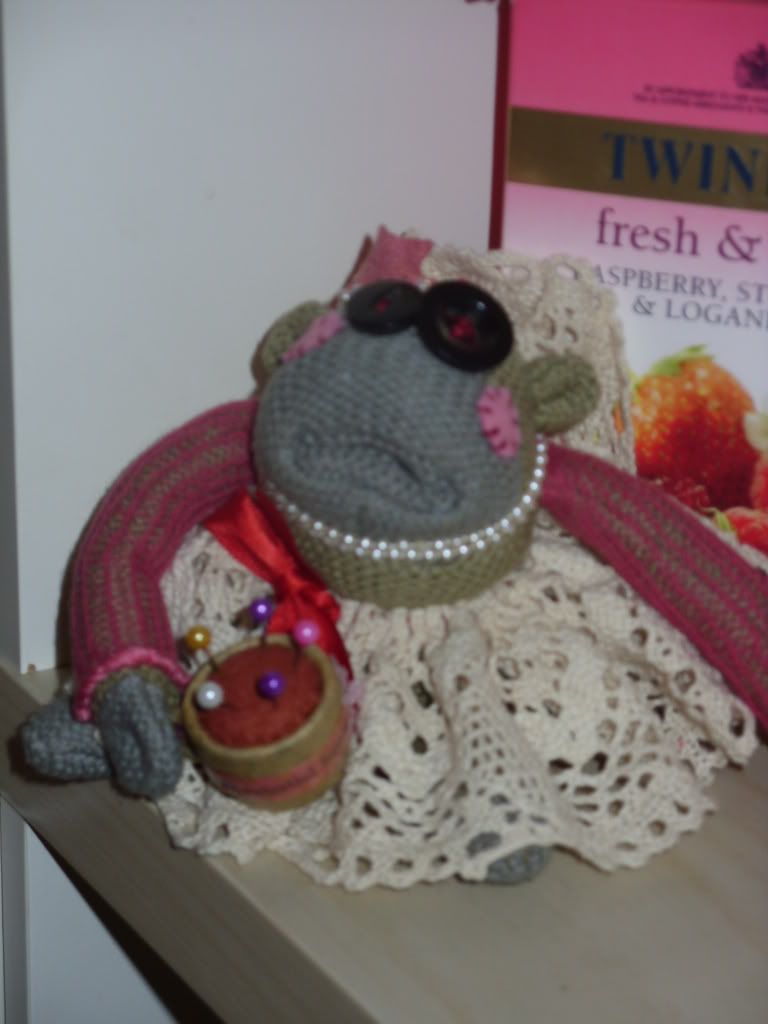 I just want to say thank you to Vonnie for running this swap and to Megan for being an awesome swap partner. Thanks ladies!!!!